Coordination of Cytokinesis with Chromosome Segregation
Coordination of Cytokinesis with Chromosome Segregation
Cell and Developmental Biology
Group page

Research lines

Group members
Coordination of Cytokinesis with Chromosome Segregation
Coordination of Cytokinesis with Chromosome Segregation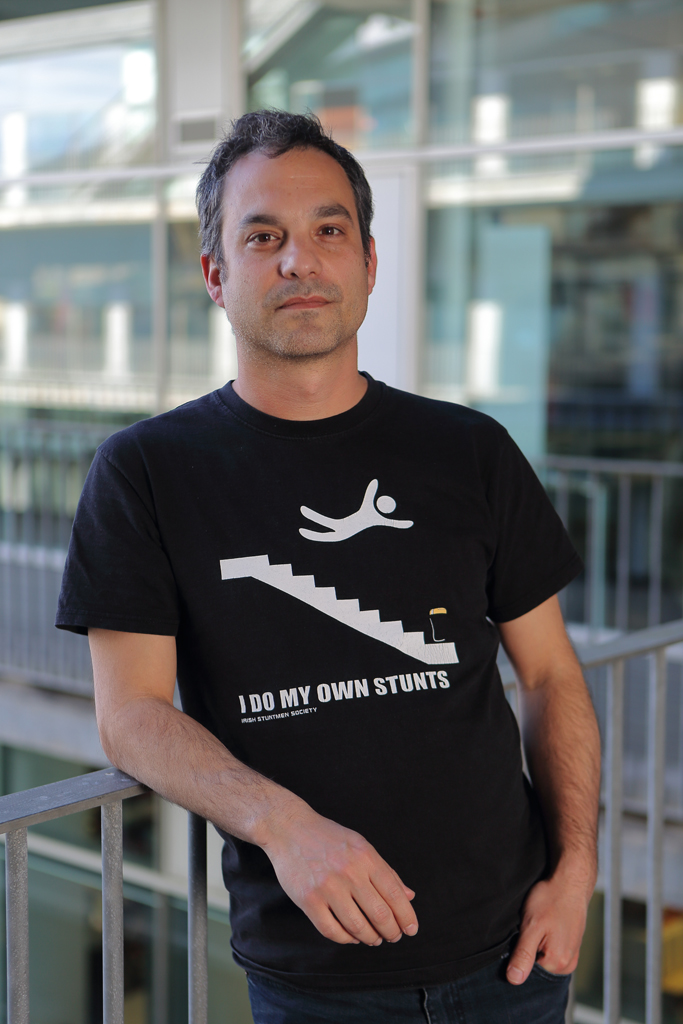 Manuel Mendoza has moved to the Institute of Genetics, Molecular and Cellular Biology (IGBMC) in Strasbourg, France.
Manuel Mendoza's new email address is mendozam_at_igbmc.fr (replace _at_ by @). However, CRG email will remain active for a period of time.
1997-2002: Graduate student in the laboratory of Michael Glotzer, Institute of Molecular Pathology (IMP) Vienna, Austria.
2002: PhD in Biochemistry, University of Vienna.
2002- 2004: Postdoctoral Fellow in the laboratory of Damian Brunner, European Molecular Biology. Laboratory (EMBL), Heidelberg, Germany.
2004-2008: Postdoctoral Fellow in the laboratory of Yves Barral, Swiss Federal Institute of Technology (ETH) Zurich, Switzerland.
2008-2017: Group Leader at the Center for Genomic Regulation (CRG) Barcelona, Spain.
October 2017: Team Leader at the Institute of Genetics, Molecular and Cellular Biology (IGBMC), Strasbourg, France.
News
Breakthroughs in our understanding of the final stages of cell division (05/05/2016)
Researchers at the Centre for Genomic Regulation (CRG) are shedding new light on the cell division process, a key process in embryonic development and the growth and proliferation of tumors.
Summary
Living cells have a fascinating ability to generate complex and dynamic internal structures. Nowhere is this property more evident than during mitosis and cytokinesis: in a very short time (often of the order of a few minutes) cells alter their shape, duplicate and partition their internal components, and divide into two apparently identical halves.
These dramatic morphological changes need to be carefully coordinated with each other in space and time.
To learn more about the principles underlying this coordination, we focus on the events at the end of the cell cycle: chromosome segregation and cytokinesis, in the yeast Saccharomyces cerevisiae.
Regulatory systems identified in yeast are then validated in animal cells (such as Drosophila), to ensure that our key findings are relevant for the fidelity of mitosis and genetic stability in multicellular organisms

1. Mechanisms of chromosome segregation sensing by the NoCut checkpoint
Cell division is completed through partition of the cytoplasm by ingression of the cleavage furrow, and the subsequent cleavage of the cell membrane into two during abscission. At the same time, the replicated chromosomes are segregated to opposite ends of the cell.
Whereas cleavage furrow ingression usually proceeds concomitantly with poleward movement of the chromosomes, abscission must take place exclusively after the last pair of sister chromatids have been pulled out of the cleavage plane.
In budding yeast and human cells, a checkpoint known as NoCut delays completion of cytokinesis when chromosome segregation is impaired. Inactivation of NoCut leads to premature abscission, and late-segregating chromosomes are trapped and (at least in yeast) cut by the cytokinesis machinery.
NoCut relies on a complex network of factors to monitor chromatin segregation away from the spindle midzone (Fig. 1). We aim to systematically characterize the NoCut mechanism, taking advantage of genetic screens to identify new checkpoint components.

Fig. 1. Model of the NoCut pathway. In early anaphase, chromosomes are in contact with the CPC, which binds to spindle midzone microtubules. Midzone-bound Ipl1 is kept active, probably through interaction with chromatin-associated factors which require histone acetylation to activate the CPC. As a result, Boi1 and Boi2 localize to the bud cortex, where they inhibit abscission. When chromosomes are segregated away from the midzone, the CPC is no longer activated by chromatin and the NoCut signal is turned off; Boi1 and Boi2 leave the bud neck, and abscission ensues.
2. Coordination of chromosome length with spindle elongation
We are also interested in additional mechanisms ensuring robust chromosome segregation. The function of the mitotic spindle is to separate sister chromatids away from each other. When the length of the anaphase spindle reaches twice the length of the longest chromosome arm, chromosome segregation is complete.
Are there mechanisms that allow the cell to adjust the size of the anaphase spindle and/or anaphase dynamics, to the length of chromosome arms? We are addressing this question through manipulation of chromosome arm length in yeast cells, and analysis of mitotic and cytokinetic events by live cell microscopy in normal and mutant strains (Fig. 2). Using this strategy, we have already uncovered one novel feedback system, which coordinates axial chromosome compaction with anaphase spindle length.
We are characterizing this and other anaphase controls through a multidisciplinary approach, which combines live cell imaging, classical molecular and genetic techniques and state-of-the-art genomics and proteomics. 

Fig. 2. Analysis of chromosome segregation in living yeast cells. Spindle pole bodies are labeled with GFP (bright green dots) to track spindle elongation during anaphase. mRFP and GFP protein fusions allow tracking of the centromere (CEN) and middle of the right arm (MID) of chromosome IV, seen as dimmer red and green dots, respectively. The dynamics of the marked loci, relative to the mid-position of the spindle, is quantified in the graph. Note that CEN sequences segregate earlier than MID sequences, as indicated by arrows. Images by Gabriel Neurohr.
3. Chromosome Compaction and Segregation in Drosophila cells
Unlike in yeast, cell size and spindle length varies considerably within multicellular organisms. As asymmetric divisions produce cells of different fates and sizes, coordination between chromosome compaction and spindle length becomes particularly important. To understand the molecular basis of this coordination and its relevance in maintaining genomic stability, we use the fruit fly Drosophila as a model system (Fig. 3).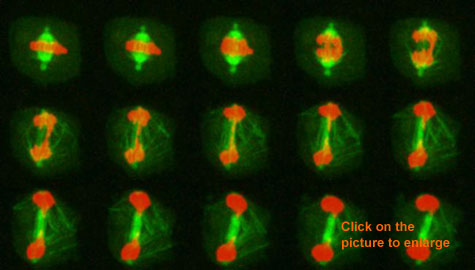 Fig. 3. Anaphase in a Drosophila S2 cell. Chromosomes are visualized through H2B-mCherry (red) and microtubules through tubulin-GFP (in green). Frames were acquired every minute. Images by Evi Kiermaier.