Cell and Developmental Biology Programme Monica Bettencourt Dias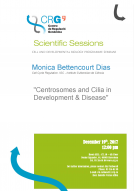 Cell and Developmental Biology Programme Monica Bettencourt Dias
19/12/201712:00R_473.10_AULACell and Developmental Biology ProgrammeMonica Bettencourt DiasCell Cycle Regulation. IGC - Instituto Gulbenkian de Ciência"Centrosomes and Cilia in Development & Disease"Host: Vernos, IsabelleAbstract:Centrioles are microtubule-based cylinders that are critical to form centrosomes and cilia.
The centrosome is the major microtubule organising center in animal cells, while cilia are critical for a variety of functions, from signalling to cellular motility.
Most studies have so far been focused on core mechanisms of the assembly and function of these structures.
In my talk I will discuss how these structures are shaped differently in different tissues so that they can perform many different functions. I will also discuss their variation and contribution to human disease.